This HTML shows some of the graphics in ASAN 5. The articles referenced are still in all text format.

In this decade of "the end of the cold war," every known problem of the world has been solved. Yet unknown and unexplained problems constantly appear to wreck havoc on our existence. The peace dividend appears and vanishes without explanation. Wage inflation vanishes in America yet the federal reserve tells us we must suffer now for the ghost of future inflation. Israel and the PLO make peace to fight war against the Palestinian poor. The FMLN "revolutionaries" of El Salvador agree to become the police of El Salvador yet death-squads continue. An immense massacre happens without warning in Rwanda.
goodbye to a friend
This article is a memorium to Charlene Paulvecchio. It is and will be available only in printed form.
……………………………………………………………………………………….

After failed real estate developer John Luigi Ferre murdered ten office workers and two lawyers in downtown San Francisco, inept San Francisco Mayor Frank Jordan was quoted as blurting out "maybe he just cracked."
Jordan's off-hand comment drew a stream of protests from relatives of the victim. They demanded a definitive line be drawn between "savage killers" and the many ordinary people we instinctively sense are close enough to the edge to "crack" under pressure. "He didn't just crack, he went on a deliberate murderous rampage..." Complained one moralistic editorial.
But Jordan's comment rings true to these times. The competition, pace and ruthlessness of this society have increased to a point where many people are pushed to and off "the edge" in many ways.
……………………………………………………………………………………….

America really is entering a period of greater democracy. Bill Clinton's election campaign has never stopped. Polls are still being taken about his latest struggles. From the New Hampshire primary to the health care reform campaign, TV has tried to draw us into his endless fights with other mighty bureaucrats - from George Bush to Robert Dole to Saddam Hussein.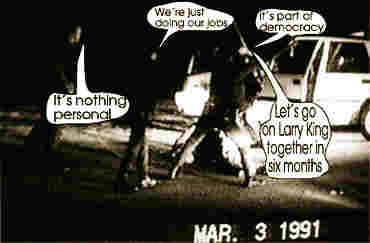 Even more, we are expected to cheer Clinton in fights against us. "How well do you think that Clinton succeeded in communicating the need for sacrifice to the American people."
……………………………………………………………………………………….

Like lemmings, the obedient workers of today are expected to crush themselves on the myths of crisis, budget deficits, inflation, global competitiveness or high technology. Mysterious explanations of our falling wages appear and disappear like villains on day-time soaps. Stern bank presidents give unquestionable reasons why we must give one more pound of flesh for financial stability. CNN suddenly tells us the remote-control computerized world-market is the final arbitrator of our wage and work conditions. The 1994 US recovery was worse than the 1993 recession. The unemployment rate may have dropped a big 1% but unemployment benefits and youth summer jobs got cut more. The hours of those who had jobs have gone up to torture levels.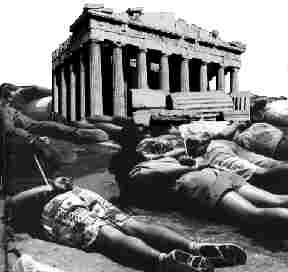 The citizens of industrial democracies have acquired a great and dubious ability to adapt to difficult conditions. Wilhelm Reich studied the submission of the average German to NAZI ideology. He wrote how rigidly held postures and attitudes helped the average citizen embrace irrational ideology. He defined these rigid postures that prevented people from feeling pleasure as Character armor. Reich's analysis of fascism can be applied to every nation today. The citizens of modern society need their character armor to adapt to the mechanical rhythm of daily life. It prevents them from feeling the pain of losing their communities and their spontaneous animal existence.
……………………………………………………………………………………….
A small number of trouble-makers disrupted Earth Day at Ohlone College in Fremont. Fremont is also an good site for subversion since left and right ideology have not yet conditioned everyone into expecting protests to always be the same.
……………………………………………………………………………………….
The Most Requested Article Ever